Foreign Investments Promotion Agency in Bosnia and Herzegovina (FIPA) today presented an award to Lukavac Cement for a long time successful business operations and significant investments in BiH. FIPA organizes selection event "The Most Important Foreign Investor in BiH" for many years, with the aim to promote success stories of foreign companies who do the business in Bosnia and Herzegovina, thus contributing development of the country.
The Award means a lot to us, it is a confirmation of the success of our previous business operations and investments. We have just ended the third investment phase, costing 20 million KM started back in 2013. Investments have been directed into the project that was of a high importance to us, and that is the use of alternative fuels which all contributes to the safe, efficient and ecologically acceptable process of cement production. With this investment we finalize planned post-privatization investment cycle. Our example shows that BiH is a good place for investment and, with common efforts, we can anticipate further progress and development of our country",
highlighted the Director of Lukavac Cement Plant, Izet Imamović.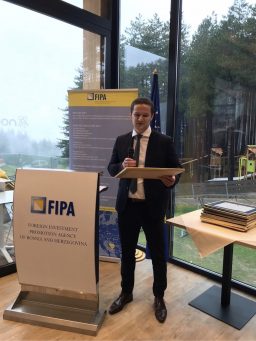 Through its investment projects, Lukavac Cement continuously strive to increase the share of use of alternative energy sources, aiming to be a main actor in waste management in BiH. Joint, but also individual obligation of all Lukavac Cement Plant employees is a dedication to follow prescribed systems of quality, waste and environment management. Quality and environmental management are built in to all the stages and activities of Lukavac Cement production, and numerous awards and acknowledgments are just an additional boost to new investments and continued successful business.